Leinster Environmentals supply our customers with high quality plastic regrinds and raw materials for use in the plastics moulding industry.
Our regrinds are manufactured at our own fully permitted facility using our own plastic recycling equipment. By controlling the manufacturing process we can be certain of the quality we produce and that our customers receive. We know that we are only as good as our last delivery , therefore we go to extreme lengths to ensure that the purity, cleanliness and overall quality of our regrinds is second to none.
As international shippers of recyclable plastic  since 2005, Leinster Environmentals have the experience to arrange shipment of our products directly to your factory, anywhere in the world.  Our regrinds are packed  into 1.75m big-bags with baffles and weather proof hoods, and placed on heat treated wooden pallets to allow for safe international shipment. We will always strive to save our customers money by maximising shipping weights and ensuring your goods are delivered to you quickly, efficiently and on-time. 
We understand that our customers operate busy manufacturing processes on a tight schedule.   We know that you need a materials supplier who will deliver what you need, when you need it.  Our goal is to solve problems rather than create them. By building strong, stable partnerships with our customers  over the longer term, and understanding their needs, we are able to ensure that we provide a consistent supply of high quality products.
To produce high quality regrinds we need well trained staff, and flexible, precise equipment capable of removing contaminants.  Fortunately, at Leinster Environmentals we have both. Our staff are well trained in polymer identification, contaminant removal and machine operation.  They understand the importance of quality to our end customers and they know that the reputation of our company is dependent upon them  completing their tasks safely and accurately.
At Leinster Environmentals we operate 7 grinding lines, each dedicated to it's own material. By setting up our lines this way we prevent unwanted cross contamination while ensuring maximum flexibility. Our lines are fitted with a range of contaminant removal capabilities including:
At Leinster Environmentals we take extreme precautions to ensure that our regrinds are of the highest quality possible. Before granulation, all of our materials are hand sorted by our highly trained staff  to remove non-target material and help ensure the quality of our finished product. Samples are taken from big bags  at regular intervals and analysed in our laboratory by our qualified personnel.  Our testing protocols include MFI testing, Moisture Testing, Oven Testing, Size Classification and Optical Analysis all designed to detect any anomalies and to prevent sub standard materials from reaching our valued customers. 
Our team ensure high quality recycled raw materials from Leinster Environmentals are quality checked and prepared for transportation for manufacturing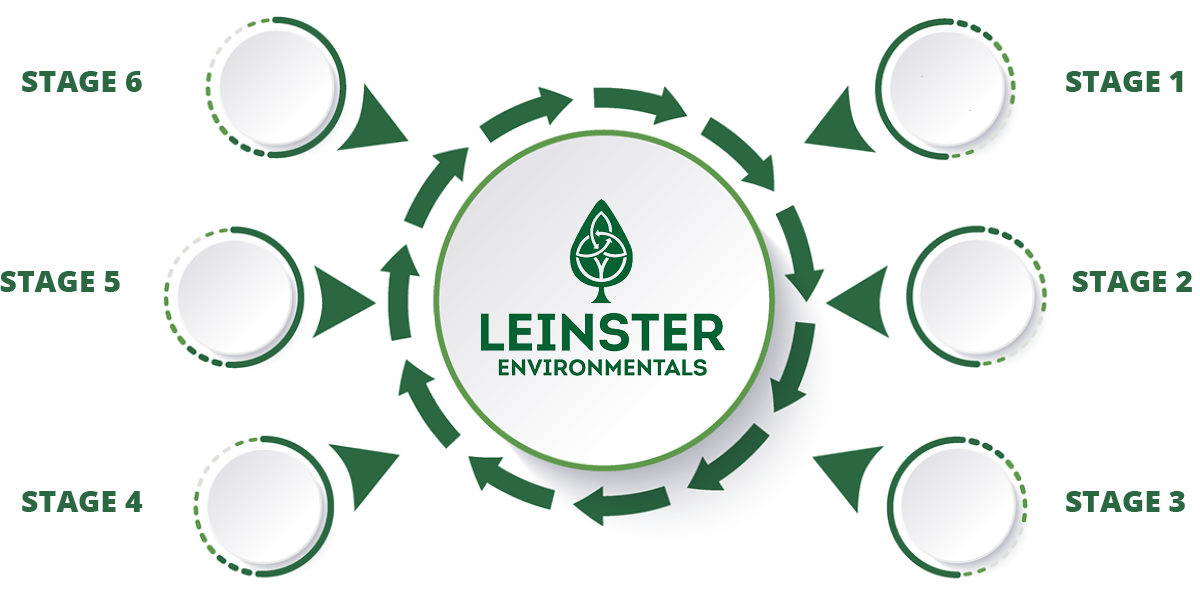 Leinster Environmentals have been valued suppliers & partners of Kras Recycling since 2012. Since then our partnership has recycled over 100,000 tonnes of scrap plastic materials. We have always found the entire Leinster Environmental's team to be highly reliable, honest and trustworthy and we are very proud of how they have represented Kras Recycling in the UK and Ireland
KRAS RECYCLING
Jack Tol
Leinster Environmentals have been a valued and trusted supplier of recyclable plastics to Berry Bpi since 2006. We have always found the team at Leinster Environmentals to be reliable, dependable, and well informed and have been consistently pleased with the quality of product they supply. We would not hesitate to recommend them to other companies seeking a trustworthy supplier of high-quality raw materials.
BPI Recycling
Nathan Bradbeer
Leinster Environmentals have been a reliable outlet for much of McElvaney's recyclable plastics for more than 12 years. During this time we have always been very pleased with how Leinster Environmentals have solved problems, created solutions and been a trusted partner. We strongly recommend that anyone who is seeking a local and knowledgeable outlet for their recyclable plastics should contact Leinster Environmentals
MC ELVANEYS
We have been working with Leinster Environmental for a number of years and they offer a great service. Starting from the knowledge about the plastic products we have and their expertise in finding markets for those materials, Leinster Environmentals provide competitive pricing which is backed up by a quick and reliable collection service. The after sales service is professional and they are always available for consultation when needed. We look forward to continuing our partnership in the next few years
Barna Recycling
Campbell Finnie | Facility Manager